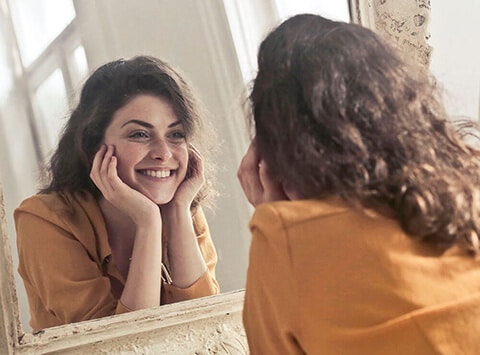 SMILE has been gaining traction around the world for the last decade—and in that short time it's already achieved millions of spectacular results.
If you haven't yet heard of this amazing vision correction procedure, don't worry. We're about to share what may just be the best news of your life (or at least the best news you've heard today)!
SMILE (an acronym for Small Incision Lenticule Extraction) is the next-gen form of laser vision correction. Like other laser procedures, it's meant to help you see your best and eliminate or reduce your dependence on glasses and contacts.
About SMILE
The advanced, minimally-invasive laser vision correction procedure has been performed for nearly a decade in more than 70 countries, helping millions of people. More than 1700 surgeons are already using it in their practices to help their patients see better. Now, with its recent introduction and FDA approval for use in the U.S., and FDA approval as a treatment for astigmatism, it's been helping more people than ever see their best.
Benefits of SMILE
Don't get us wrong. We love LASIK. But there are some advantages that SMILE may have over traditional laser vision correction procedures.
SMILE has gained its following for a reason. Thanks to the gentler, "visionary" approach of SMILE, more people are living their lives fuller and happier than before. Here are just a few of the benefits they (and we!) love about SMILE.
The best vision of your life: If we didn't mention this again, we'd be remiss to leave out the most important benefit of the procedure–i mean, that's why you're doing it after all, right?
Blade-free: Anyone who's ever been scared to go "under the knife" can breathe easy because SMILE is completely blade-free.
Gentle and minimally-invasive: SMILE reshapes and smooths out misshapen corneas through making only a single, small incision on the outside of the eye.
Reduced chance of post-surgery dry eye: The single incision makes this procedure particularly great for anyone who suffers from dry eyes.
Really fast procedure: People tend to smile when they learn how ridiculously fast the SMILE procedure is. Within minutes, you'll be in and out of the chair and on your way to a speedy recovery. The best part? The laser part of the procedure lasts less than a minute!
Really fast recovery time: The advanced procedure enables you to get back to normal life the very next day. And if you wear makeup, have no fear because you can wear it the very next day.
Corrects astigmatism: About one in three Americans suffer from the distorted, blurry vision brought on by Astigmatism. The condition is caused by a spherically-shaped cornea or lens. But with just a single incision, SMILE can smooth out the surface of the cornea–and get you back on your way fast.
Less risk of infection: The single micro incision reduces the chance of infection setting in so that the cornea can heal faster and you can be back on your feet in moments.
Why SMILE might be a great option for you
Whether you're nearsighted, have astigmatism or are just sick and tired of blurry vision and having to find your glasses or contacts to be able to see "just okay", SMILE can give you the permanent results you want–fast.
Our happy patients can't help but smile when they recount their experiences and their new lives. One patient, Joshua, noticed it immediately and said, "Before SMILE, my glasses were a constant hassle. After SMILE, I can rock climb, run and play with my kids with no worries. My barrier is gone!"
The fast and simple SMILE process
IQ Laser Vision is the #1 SMILE center on the West Coast. And we aim to please as we transform your way of seeing the world from blurry and so-so to spectacular–in the fastest way.
After you schedule a free consultation, our ophthalmologist will test your vision, examine your eye's anatomy, learn about your struggles, what you do and what your vision goals are–and help you see how much your vision can be improved. You'll receive a personalized recommendation for the best procedure to help you achieve the results you want. Email us at appointment@iqlaservision.com or give us a call at 888.539.2211.
But there's MORE! Get your questions answered LIVE
Want to know more about SMILE or other laser procedures? Join us at our Reddit AMA on Friday, 2/1 at 11 AM to submit your SMILE or vision questions directly to world-renowned laser vision correction expert Dr. Robert T. Lin for immediate answers! You won't want to miss this eye-opening event!