Does LASIK Hurt? When it comes to correcting problems with your vision, LASIK is one of the most common and popular solutions on the market. LASIK eye surgery is a highly sought-after procedure because it's quick, the results are phenomenal, and it's incredibly safe. There is very little risk of any side effects when you get LASIK to correct refractive vision errors.
Another great thing about LASIK, is that the recovery process often begins very quickly, which means that you can start to see results fast and get back to your normal activities within a few days. However, despite all the many advantages of LASIK, some people still put off the procedure because they're worried about one critical question: "Does LASIK hurt?"
The simple answer is no, LASIK doesn't hurt, and there are many reasons why. Here we're going to tell you everything you need to know about the pains associated with LASIK.
Does LASIK Eye Surgery Hurt? Here's Why the Answer is No
The actual surgery part of LASIK doesn't hurt at all, and the period following your procedure is unlikely to cause much discomfort either. There are many reasons for this, as the people who created LASIK surgery, and the doctors who now perform this procedure worked hard to make sure that it causes as little pain as possible.
The first reason why LASIK eye surgery doesn't hurt, is that you'll be given a local anesthetic to numb the surface of your eyes before your surgery begins. These drops feel similar to the kind you might have used in the past to get rid of dry eye symptoms. The most you're likely to feel is some gentle pressure during the procedure.
Another point to note about why the answer to "Does LASIK hurt" is no, is that the machines or "excimer lasers" used to perform the procedure are more advanced today than they have ever been. Before we had laser eye surgery, surgeons had to correct issues with vision by hand, using a very small scalpel. This process was much riskier, and often caused more discomfort in the long-term than the laser procedures we have today.
Now, the excimer laser available for LASIK eye surgery is very accurate, and it's designed to keep pain to a minimum. The process is supported with a computer program which allows your eye surgeon to map the structure of your eye in advance. Because the risk of error is kept to an absolute minimum, your risk of any pain will be significantly reduced too.
Does LASIK Hurt? The Short-Term Recovery
Some people aren't concerned about whether LASIK hurts during the actual surgery, but they are worried about whether they'll feel any pain during the recovery process. The first thing you need to know is that you won't be able to drive on the day of the procedure. Although LASIK doesn't hurt, and you'll be awake for the procedure, you'll still be unable to use your eyes properly, and your doctor will need you to rest for the first few hours following the surgery.
During the first few days of your recovery, there's a chance that you'll feel a small amount of irritation. Your eyes may water or feel dry, or it make seem like you have a piece of sand in your eye that you want to rub away. There's a chance that you'll be asked to wear a shield over your eyes during the night to make sure that you don't rub your eye or eyelid when you're sleeping.
Though there is a chance of irritation during those first couple of days of recovery, it will quickly subside, and you'll be able to get back to normal within a week or so. Additional side-effects like halos around lights, or blurred vision will also begin to subside within the first few weeks for most people. However, some side effects can last longer depending on the nature of your vision correction. You'll be able to discuss any concerns you might have with your eye surgeon during the regular appointments he or she schedules with you.
Remember not to wear contact lenses while you're recovering, even if you still think that your vision is blurry.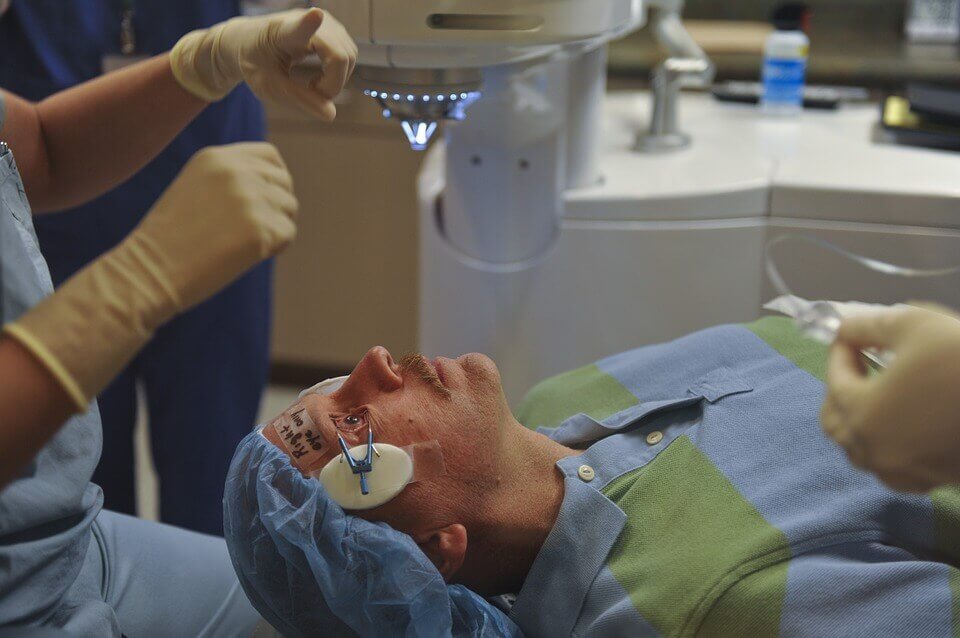 Eye Pain in the Long-Term After LASIK
If you're worried about there being pain for several months after LASIK surgery, you should be able to rest assured. It's very unlikely that any issues will happen after LASIK surgery, and even if they do, they're usually very short-term issues that correct themselves. For most people, the recovery period for LASIK won't last any longer than six months, but you might experience a few fluctuations in your vision during this time.
The good news is that you will have several follow-up appointments booked with your surgeon during your recovery period where you can ask any questions you might have about recovery or discomfort. The important thing to keep in mind for most people, is that it's crucial to avoid any activities that would put your eye at risk. For instance, high-impact sports are often a no-go during the initial recovery process.
Additionally, it's important to contact your doctor if you notice anything out of the ordinary during your recovery period. Your eye surgeon will be able to tell you what you can expect over the course of the next few months.
In very rare circumstances, after your six-month recovery period is complete, you might need a second procedure to finish correcting any issues that haven't been resolved by the first treatment. Most of the time, this will not be necessary, but it's important to wait for the full recovery period to have passed before you go through the treatment again.