Do you want better vision without the help of visual aids? With a procedure like refractive lens exchange performed at IQ Laser Vision at our Rowland Heights In-Suite Surgery Center, you can achieve visual freedom that will last for the rest of your life!
What is Refractive Lens Exchange?
Refractive lens exchange (RLE) is a procedure that replaces the natural lens of the eye with an artificial intraocular lens (IOL) to correct visual impairments like nearsightedness (myopia), farsightedness (hyperopia), astigmatism, and presbyopia. The goal of refractive lens exchange is to reduce or eliminate the need for glasses or contact lenses and improve the patient's overall visual quality.
Presbyopia is a natural age-related condition that affects the ability to focus on close objects. It typically begins to develop around the age of 40 and progresses with age when the natural lens loses flexibility.
As a result, you'll notice that it becomes a lot harder to see things up close and right in front of you.
Trying to complete tasks like texting on your phone, curling up with your favorite book, or putting on makeup will seem impossible without the help of reading glasses. Reading glasses are only a temporary measure for correcting presbyopia because when you take them off, your vision returns to the way it was before.
But with refractive lens exchange, you can permanently fix your sight and say goodbye to reading glasses! After the procedure, you'll no longer need to worry about presbyopia or cataracts.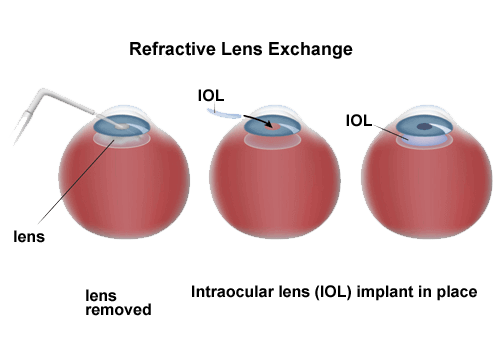 How Does Refractive Lens Exchange Work?
Refractive lens exchange is a procedure that replaces the natural lens in your eye with an artificial lens (called an intraocular lens or IOL) to help you see clearly. If that sounds an awful lot like cataract surgery, it's because these two procedures are virtually the same.
The only difference between the two? When you have cataract surgery, you have a cataract that forms on the natural lens. To remove the cataract, your cataract surgeon will remove the natural lens where the cataract has formed.
However, you don't need to have cataracts with refractive lens exchange. The natural lens is replaced with an IOL, the same as during cataract surgery. Many patients decide to have a premium intraocular lens implanted during refractive lens exchange to ensure they'll have their best possible vision.
But the best part?
Because you have an IOL replacing your natural lens before having cataracts, you don't have to worry about cataracts later in life! That means you can look forward to many years of crystal-clear vision without the frustrations and annoyances of worsening vision due to cataracts.
If you don't have cataracts, but you've started suffering from presbyopia and are tired of the difficulties that come with depending on reading glasses, refractive lens exchange may be perfect for you. Have you ever wanted LASIK and found out you didn't qualify?
You may find out that a procedure like refractive lens exchange, performed at IQ Laser Vision, is a better fit for you instead!
Will I Be a Good Candidate for Refractive Lens Exchange?
Not everyone will be a good candidate for refractive lens exchange. You may be a good fit for this vision correction procedure at IQ Laser Vision if:
You're over the age of 40
Your prescription is stable, meaning it hasn't changed in at least 1 year
You're in good health and don't have any health conditions that may make it more challenging to recover after refractive lens exchange like lupus, Sjogren's syndrome, or rheumatoid arthritis
You have refractive errors, including moderate to high amounts of farsightedness or presbyopia
You want to stop depending on reading glasses
You don't want to worry about cataracts or cataract surgery later in life
You've been told you don't qualify for LASIK
You have healthy eyes without a history of eye disease
You have thin corneas but still want to undergo a vision correction procedure
You have early cataracts
You have presbyopia
The only way to know for sure if you're a candidate for refractive lens exchange is to schedule a consultation at IQ Laser Vision's Rowland Heights In-Suite Surgery Center and other convenient locations!
How Long Does It Take to Recover After Undergoing Refractive Lens Exchange?
After having refractive lens exchange, there's no reason to stress out about an extended or drawn-out recovery time. On the contrary, the recovery after the procedure is minimal and will allow you to experience your new vision before you know it.
Once the procedure is over, you'll have a friend or family member drive you home because your vision is likely to be a bit unstable. Your eyes and vision will start healing immediately, so it's totally understandable if the first thing you want to do when you get home is take a nap.
You may notice that your vision is blurry or fluctuates for a day or two after refractive lens exchange. Experiencing these vision changes is normal and will go away on its own while you get used to and adjust to your new lens.
Many patients start noticing immediate visual improvements right after refractive lens exchange. You may see clearer, crisper, and in better detail, than you were ever able to before the procedure, with your vision continuing to improve in the days and weeks following refractive lens exchange.
Your eye doctor will give you anti-inflammatory and antibiotic eye drops, so you must take these exactly as directed. You'll also need to return to IQ Laser Vision for a follow-up appointment shortly after your refractive lens exchange procedure.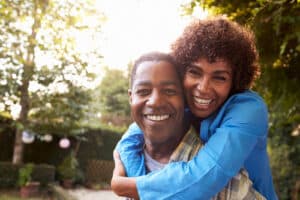 During this appointment, we will check to ensure your eyes are healing and there are no visible complications or infections. You'll need to return for another follow-up appointment a week later and a month later to ensure that your eyes are recovering properly. Your ophthalmologist will outline other instructions and answer any questions you may have.
After refractive lens exchange, you can say goodbye to the reading glasses and trying to hold things at an arm's distance away from you to try to see better. Instead, you can see clearly at all distances and say so long to the worries of cataracts in the future. It's your vision, so why not see your best now?
Learn more about refractive lens exchange by scheduling an appointment at IQ Laser Vision at our Rowland Heights In-Suite Surgery Center in City of Industry, CA and other convenient locations!
---