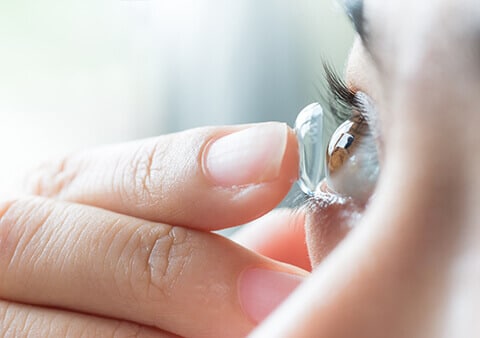 Do you wear glasses but want more options? Contact lenses are a great solution if you want to be more active! If you've never worn them before, you may be unsure about how to put them in, as well as what kind of contact lenses are best for your eyes.
Keep reading to learn more about contacts and how they work.
What are contact lenses?
Contact lenses are clear plastic lenses that look like disks. The lens is clear and is placed on the surface of the eye. You can wear contacts instead of glasses to help correct your vision. Contacts are medical devices, meaning you need a prescription from your eye doctor to wear them.
How do contacts work?
Contacts serve the same purpose as eyeglasses: helping you see more clearly. These lenses "stick" to the surface of your eye so they can move with your eyeball.
This allows your vision to stay clear and strong. Contacts adjust the direction of the light coming into your eye to help your retina focus.
Who can wear contacts?
Contact lenses may be a good option for people with:
Nearsightedness
Farsightedness
Astigmatism
Presbyopia
Wearing contacts instead of glasses is safe for most people who need glasses. They may not be right for everyone. Ask your eye doctor about if you should wear contacts if the following is true:
You have had eye infections in the past
You experience severe allergic reactions
You are often exposed to large amounts of dust and dirt
These things may make wearing contact lenses unsafe and there may be a better vision correction alternative out there instead!
Are contacts better than glasses?
Contacts aren't necessarily better than glasses. Both choices have pros and cons. Your eye health, medical history, and lifestyle can help you and your eye doctor at IQ Laser Vision in Inland Empire decide which option is best for you.
One benefit of contacts over glasses is that contacts provide you with better peripheral vision. It's also safer to wear contacts if you take part in contact sports, and contacts won't fog up in rainy weather.
But you might prefer glasses if you don't want to keep up with the maintenance that's necessary for using contact lenses. Some people also appreciate that it's easy to take their glasses off anytime they want.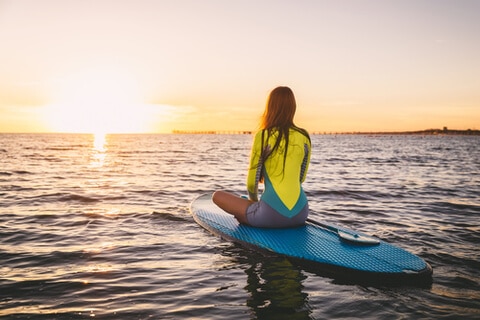 Can you wear contacts all the time?
It's important to note that you can't wear most contacts constantly. Some contacts are only for daily wear and are then meant to be disposed of.
You'll take these contacts out before you go to bed each night. Other contacts you can wear overnight.
But you shouldn't wear them for longer than about a week at a time. Talk to your eye doctor about how long you should wear contact lenses if you're concerned.
What are the risks of wearing contacts?
Wearing contact lenses could potentially cause eye infections or ulcers. But these conditions typically only develop if you aren't caring for your contact lenses the right way.
You can keep your eyes healthy and safe by cleaning and maintaining your contacts. You should always wash your hands before handling your contact lenses and make it a habit to wash your contact lens case often as well.
Can my contact lenses get lost behind my eye?
No. On rare occasions, your contact lens may slide up under your upper eyelid if you rub your eye.
Your contact lenses will stay put on your eyeball and will not move around to places they should not go.
How do I care for my contacts?
You'll need to use a special contact lens solution to care for your contact lenses and keep them clean. Do not use tap water to clean your contacts because this could introduce bacteria onto the lens.
It also will not clean them. Make sure to wash and dry your hands before you handle your lenses. You will have to clean, rinse, and disinfect your contact lenses using this solution every time you take them out of your eyes.
You'll also need to replace your contacts regularly, so you don't get an eye infection. Some lenses are meant to be worn for only a day at a time.
These "daily disposable" lenses won't need any care because they go straight into the trash can each night. Others are safe to wear for every two weeks, a month, or several months before they need replacing.
With these types of lenses, you'll need to clean them every night. Make sure to speak with your IQ Laser Vision ophthalmologist in Palm Desert and other convenient locations about what type of lenses you have. That way, you'll know when you need to replace them.
Finally, take out your contact lenses before going swimming. Contact lenses should never be exposed to non-sterile water, especially chlorinated water.
You could get an eye infection from bacteria. Replace the storage case for your contact lenses every three months.
What types of contact lenses are available?
There are two primary kinds of contacts: hard and soft.
Soft lenses are disposable, typically worn for several days at a time. They're comfortable and easy to put into your eyes.
Soft contacts are often used to correct nearsightedness, farsightedness, or astigmatism. Hard contacts are more rigid.
They're also very durable. Hard contacts might help slow down nearsightedness. Speak with your ophthalmologist in Sherman Oaks and other convenient locations about which type of contact lenses are best for you.
Are contacts expensive?
Contacts can potentially become expensive. Disposable contacts cost around $400 total each year for the contacts and the contact lens solution.
That might seem like a lot of money. But compared to the cost of eyeglasses or vision surgery, the cost may be worth it.
You can also find discounts on your contact lenses. This may include using coupons or buying contacts in bulk.
What are my choices besides contacts?
If you want to explore other vision correction options besides contacts, IQ Laser Vision has several other options that patients may qualify for. These include PRK, LASEK, SMILE, and LASIK, and EVO ICL. Unlike contact lenses, these are permanent ways of correcting your eyes. LASIK is the most popular elective procedure that patients can have.
PRK is a procedure that produces similar results to LASIK but is better for patients with thinner corneas who may not be good candidates for LASIK. SMILE is a procedure that corrects nearsightedness or astigmatism in patients. It's often quite popular with people that have dry eye syndrome since it creates a smaller incision in the cornea, leading to less disruption of the cornea.
With a smaller incision, most patients that have the procedure don't have dry eyes as they recover. If you want to learn more about vision correction and what may be right for you, contact your eye doctor at IQ Laser Vision in Los Angeles!
Ready to start wearing contact lenses? Contact IQ Laser Vision in Palm Desert, CA and other convenient locations to schedule your appointment!