LASIK eye surgery is a form of laser eye surgery which involves using a laser to reshape the cornea and correct any refractive issues with the vision. LASIK is probably the most common form of laser eye surgery or laser vision correction around today, and it's also one of the most effective, with many people seeing incredible results from their treatment. LASIK has been around for more than 20 years now, and the procedure that is used during this treatment is generally very well known.
However, if you're considering getting LASIK treatment for your vision problems, then you might want to learn a little more about one of the most common elements of LASIK, otherwise known as the LASIK flap.
What Is the LASIK Flap?
If you've read about LASIK eye surgery before then you've probably discovered the LASIK flap too. This is the access point that your doctor uses to correct an issue with your cornea.
The cornea is the surface coating of your eye, and it's responsible for helping to direct light into your optic nerve. The cornea is made up of five layers, including a surface layer known as the epithelium. When your eye surgeon corrects your vision with LASIK surgery, they need to get underneath the epithelium to the thickest part of the cornea – known as the stroma.
While eye surgeries like PRK remove the surface layer of the cornea entirely and wait for it to heal on its own over time, LASIK creates a small flap in that first layer instead. This flap can be carefully moved to the side as the surgeon uses his or her laser to shape the stroma of your eye. The stroma can be shaped and adjusted to improve the refractive nature of your vision and give you a clearer level of sight.
Once your stroma has been fully altered by your eye doctor, the flap created in the surface layer will be smoothed back into place. No stitches are required to keep this flap in place, as it often holds where it needs to be with natural adhesion.
Understanding the LASIK FLAP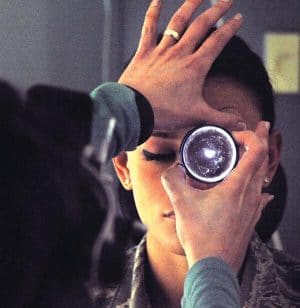 The LASIK flap is the only manual component of LASIK eye surgery today. In the past, however, surgery had to be conducted with a mechanical instrument – which had a far greater risk of problems. Fortunately, since then the technology around eye surgery has improved significantly, and the use of lasers means that your doctor can create a perfect incision into your cornea without the need for any blades at all.
When your eye doctor creates the LASIK flap in your cornea, they also create a hinge where the layer remains attached to the eye. The most common location for the hinge is at the top of the eye, or the part of the eye closest to the nose. In the past, the most common option for the LASIK hinge was the nasal position. However, in more recent years, eye surgeons have begun to explore the possibilities of LASIK flaps with upper-positioned hinges. This down up technique helps to keep the flap in place for longer according to some doctors.
The belief is that your natural blinking process will help to keep the flap in place, which should ensure a smoother process for healing. Gravity also has a part to play here. Of course, there are plenty of surgeons that prefer the nasal option still. Your eye surgeon will discuss his or her plans with you during your LASIK consultation and answer any questions you might have.
How Does the LASIK Flap Heal?
Once the LASIK flap has been replaced after a laser correction of your vision, the healing process can begin. Since different people heal in different ways, the amount of time it might take for your flap to heal can vary. Your surgeon or eye doctor will generally provide you with a guideline of how long it takes for a LASIK flap to become secure. For most people, the process takes around two weeks, but it can take longer for others.
Within a month, you should be able to return to your standard daily activities without worrying about disrupting the healing process. However, you should always consider whether there may be a risk that you will suffer from a blow to your eyes during a sport or physical activity.
In some very rare cases, there can be issues with the LASIK flap, which is why some patients still prefer to choose PRK surgery over LASIK.
Common Issues
Flap complications don't usually take place after LASIK surgery, so rest assured that you're very unlikely to suffer from one of these problems. In almost all cases, there are no problems whatsoever. At the same time, even if you do suffer from a LASIK flap problem, there's a good chance that your doctor will be able to repair it for you. The most common types of LASIK flap issues include:
Flap dislocation: This can happen after a trauma or an injury that takes place after surgery. You must be very careful not to take part in any activity that could harm your eye during the healing process.
Incomplete flaps: When your LASIK is conducted by an experienced surgeon, you shouldn't have problems with irregular or incomplete flaps, but this is still a very rare complication of LASIK surgery.
Diffuse Lamellar Keratitis: This condition can involve inflammation beneath the LASIK flap that prevents the healing of the flap. Normally, the flap can be treated effectively using topical steroids and antibiotics.
Formation of Striae: Finally, there's a very slight risk that small wrinkles may form in your LASIK flap after surgery. These wrinkles probably won't interfere with your vision, and they can be corrected with a painless procedure.
Although complications with LASIK flap surgery have always been rare, since the introduction of laser surgery or laser vision correction, the risks are even smaller. Blade-free LASIK ensures that your surgeon can create the most precise corneal flap available. This means that you have the best chance of a pain-free and problem-free recovery process.