It may be the season for giving, but don't forget about yourself during the holidays. Have you ever lamented waking up in the morning and needing to use glasses or contacts to see?
Are you frustrated that you need to bring a spare pair of glasses everywhere, just in case? What if you could say goodbye to these nuisances and achieve visual freedom?
If you qualify for a minimally invasive vision correction procedure called ZEISS SMILE, all this and more can be your new reality! Keep reading to learn why you should put yourself first and get ZEISS SMILE before the year ends!
What is ZEISS SMILE?
Before we get too involved, let's take a step back and talk about what ZEISS SMILE is. Although you'd think it's a dental procedure, it's not.
ZEISS SMILE is a minimally invasive vision correction procedure that corrects nearsightedness and astigmatism. If you're farsighted, realizing that ZEISS SMILE is not suitable for you is paramount.
ZEISS SMILE uses a femtosecond laser to reshape your cornea and correct nearsightedness or astigmatism. The laser uses bursts of energy to break up precise areas of tissue without damaging other parts of the cornea.
The femtosecond laser creates a lenticule, a lens-shaped piece of tissue, inside the cornea. After making the lenticule, your IQ Laser Vision surgeon constructs a tiny opening of 4 millimeters or less on the surface of your eye before forming an opening in the cornea's surface.
They will then pull out the lenticule through the opening and dispose of it, reshaping the cornea and correcting your refractive errors and vision. In total, SMILE only takes 10-15 minutes to complete, and the results are life-changing!
Why Should I Get ZEISS SMILE?

So, why should you get ZEISS SMILE? There are many reasons to consider this incredible vision correction procedure, but how about you put yourself first for a change?
Treating yourself is sometimes as simple as indulging in a bubble bath after a long day at work or savoring a slice of your favorite cake from that bakery you can't resist. But other times, it's about thinking about what will help you most.
For many people, no longer needing to rely on visual aids is an incredible way to put themselves first. Here's how!
See the New Year with New, Amazing Vision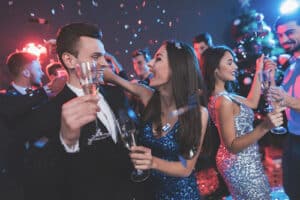 There's something so magical about watching the ball drop and ushering in a new year. But it can be challenging to get the most out of the moment when your contact lenses make your eyes feel irritated, or your glasses cause glare, and you miss the first few minutes of a fresh new year.
The first step to an extraordinary New Year? When you can see clearly without frames, lenses, or any visual aids standing in your way!
Now, imagine you're starting a new year and doing it with the best vision you've ever had. Your sight is crisp, clear, and sharp, allowing you to pick up on the tiniest yet essential details you'll remember for years to come.
That's what seeing the world around you is like when you get ZEISS SMILE. It's light years better than what you achieved with glasses and contact lenses, and that's because ZEISS SMILE corrects your vision beyond your original prescription.
Most patients end up with 20/20 vision or better, including improved depth perception and contrast.
Feel Better About Yourself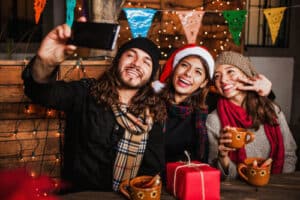 Want to feel better about yourself? It can be as simple as achieving visual freedom.
Wearing glasses may help you see, but it may also make you feel like you can't express yourself. Have you ever had the perfect outfit to wear, but it didn't look right when you put on your glasses?
What about when you're taking holiday photos with your friends and family, and your glasses cause glare or make you feel like you stand out too much in the pictures? Sure, the most obvious solution is choosing to wear contact lenses instead, but this isn't an option for everyone.
Some may find that contact lenses make their eyes feel dry, irritated, or uncomfortable. When this is the case, glasses become the only option.
But if you choose a vision correction procedure like ZEISS SMILE, you won't have to worry about the frustrations of wearing glasses or whether contact lenses will irritate your eyes. Instead, you'll have drastically improved vision that you can enjoy for years to come.
The Investment that Keeps on Giving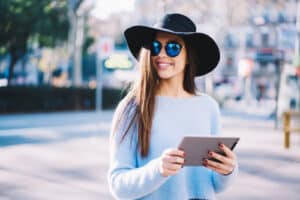 Treating yourself can be about more than the short term. When it comes to getting ZEISS SMILE, it can benefit you in the long term as well.
Did you know that, on average, most people spend about $500 yearly on glasses, contact lenses, and various accessories? That's a number that can add up quickly!
Here at IQ Laser Vision, we're dedicated to offering our patients affordable vision correction procedures! There's no reason why getting ZEISS SMILE should break the bank, right?
That's why we offer interest-free payments as low as $8 per day with flexible payment plans. If you can afford your daily addiction to Starbucks, there's an excellent chance that you can afford to get ZEISS SMILE!
What's more, you own your vision when you get ZEISS SMILE and pay off your procedure (which most patients achieve in as little as two years). Once you reach this point, ZEISS SMILE starts paying for itself quite quickly.
Think about the $500 a year you used to spend on glasses, contacts, prescription sunglasses, and any other accessories you needed to see. After ZEISS SMILE, you'll have $500 a year back in your pocket to spend the way you want.
Why not put it towards buying your first home, treating yourself to a luxury vacation, or investing in a business idea you've been considering for the last decade? With ZEISS SMILE, you'll have more opportunities to do the things you love with better vision than you could have imagined.
It's time to make your dreams a reality. Schedule your free ZEISS SMILE consultation at IQ Laser Vision at our convenient locations in Los Angeles, San Francisco, Houston, and the surrounding California area!