Do you hate waking up every morning fumbling for your glasses or bleary-eyed until you can put in your contact lenses? There's a better way!
Influencers like Max Strus, YooA from the K-pop sensation Oh My Girl, and Joe Jonas have taken their vision to the next level. They've chosen the EVO ICL for crisp, unfettered sight and visual freedom from the annoyances of glasses and contact lenses.
Keep reading to find out why they got the EVO ICL and why you should also consider it!
Max Strus
As a professional basketball player, Max Strus knows the importance of being able to see on the court. But with glasses and contact lenses, the vision he always wanted still seemed just out of reach.
Whether it was seasonal allergies or contact lenses that were unreliable when he needed them most, Max knew he needed a change for the better. That's where the EVO Visian ICL came in.
Max says, "After learning about vision correction options from my doctor, one of the top reasons I chose EVO over other options was knowing it was removable by a doctor if I ever wanted, and that gave me incredible peace of mind. I am so excited to kick off the season with 20/10 vision!"
Thanks to the EVO ICL, Max is seeing better with 20/20 vision. He started the new season with 20/10 vision. His new vision is far better than he could achieve with glasses or contact lenses before the vision correction procedure.
Best of all, the EVO ICL is removable, meaning if Max ever changes his mind, he can have the ICL taken out. Peace of mind can go a long way when you're a professional athlete. The same is true of anyone considering the merits of vision correction.
YooA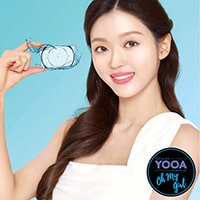 Being a member of the super successful K-pop group Oh My Girl means that singer YooA welcomed the opportunity to do away with the routine of glasses and contact lenses. Spending so much time on the road can take its toll on you, including your eyes!
With the EVO ICL, YooA now knows that her eyes are comfortable. This is true whether she's on stage singing and dancing, surfing in the ocean, or reading late at night. One less thing to worry about is something that everyone can appreciate, whether you're a K-pop superstar or not!
Not to mention, you'll see clearly night and day, and the EVO ICL even features built-in UV filtering to ensure your eyes are always protected in the sun. Visual freedom without boundaries is the cherry on top!
Joe Jonas
When you're 1/3 of the global phenomenon that is the Jonas Brothers, you'd assume that Joe Jonas must have it all. For the most part, that's undoubtedly true.
But like millions of others, he too struggled with poor vision that required using visual aids like glasses and contact lenses until recently. His choice to have the EVO ICL implanted in each eye has changed his life, and he says it's changed it for the better.
Joe says:
 "I chose EVO as I felt like it was finally time to upgrade my vision and change how I could see the world. It was a seamless, easy procedure for me that quickly gave me sharp, clear vision day or night without inducing dry eye syndrome. The results are life changing for me and with EVO, I now can simply wake up and go about my day."
Jonas needed a vision solution that would allow him to see clearly without making his eyes dry or irritated. Sound familiar?
If you rely on contact lenses to go about your day, you may deal with the dryness and irritation that often comes with wearing contact lenses. But with the EVO ICL, you'll have clear vision that works with your eyes.
How? The EVO ICL is biocompatible because it's made of a material called collamer.
Collamer is a naturally derived material from collagen, meaning that patients are far less likely to have dry eyes with the EVO ICL. Instead, you can look forward to crisper, sharper vision with EVO that will make you look at the world in a whole new way.
What is the EVO ICL?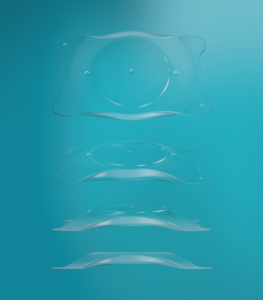 The EVO ICL is an additive lens placed behind the eye's iris and in front of your natural lens. It does not remove the natural lens or any tissue from the cornea.
Instead, the EVO ICL is a reversible vision correction procedure. If you change your mind about it, your ophthalmologist can remove it at any time. The EVO ICL treats nearsightedness and astigmatism, allowing you to finally achieve visual freedom from glasses and contact lenses.
With the EVO ICL, you'll be able to see clearly night and day, and it's biocompatible with the eye's natural chemistry. You also will not be able to feel or see the EVO ICL after it's in the eye.
Only you will know it's there, helping you see like never before!
Am I a Good Candidate for the EVO ICL?
The EVO ICL is only FDA-approved to treat nearsightedness and astigmatism. Other factors for candidacy with the EVO ICL include: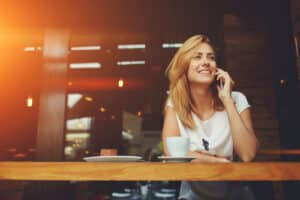 Having a prescription that's remained stable and unchanged for at least a year
Being between the ages of 21 and 45
Having a prescription within the acceptable treatment limits for nearsightedness and astigmatism
Not being currently pregnant or nursing
These are only some of the factors for EVO ICL candidacy. If you want to find out if you're a good candidate for the EVO ICL, take the first step towards visual freedom by scheduling a consultation at IQ Laser Vision at our convenient locations in Los Angeles, San Francisco, Houston, and the surrounding California area!
Haven't you waited long enough to make your vision dreams a reality?