Do you love the idea of LASIK but recently found out you don't qualify for it? Although it may seem like your dreams of vision correction are done, they don't have to be!
There are other procedures that you may be a better fit for, like the EVO ICL. Keep reading to learn more about this incredible procedure and to find out if it may be right for you!
What is the EVO ICL?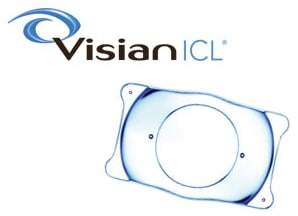 If you're not familiar with it, the EVO ICL is what's known as an implantable collamer lens. Collamer is a biocompatible material, meaning it stays in harmony with your eye and decreases your chances of side effects like dry eyes.
Unlike LASIK, SMILE, and PRK, the EVO ICL is not a permanent procedure. If, for some reason, you change your mind about the ICL, or you want to put in a different lens because of having cataracts, later on, you can.
The EVO ICL does not alter the shape of your cornea or your natural lens in any way. Instead, it's inserted into your eye through one tiny incision at the base of the cornea.
It sits here, unintrusively, and provides you with clear vision that will change your life. You won't be able to feel the EVO ICL after having it inserted.
Who is a Good Candidate for the EVO ICL?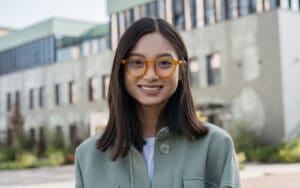 The EVO ICL is only FDA-approved for patients with moderate to severe nearsightedness and astigmatism. If you're farsighted, the EVO ICL is not suitable for you.
The ICL can correct between -3.0 to -16.0 diopters of nearsightedness. If you have astigmatism, the EVO ICL can treat anywhere from 1 to 4 diopters.
Patients that fall into these ranges of nearsightedness and astigmatism are likely to be good candidates for the EVO ICL. If your prescription is more substantial, you'll need to look into a different procedure.
You should not have the EVO ICL if the following is true:
Your eye doctor determines that the shape of your eye is not suitable for the EVO ICL
You are currently pregnant or nursing, as your eyes may change due to hormones
You don't meet the minimum endothelial cell density for your age when you go in to have the EVO ICL implanted, as determined by your eye doctor
Your vision is not stable enough
If you're not considered a good candidate for the EVO ICL, you may be a better fit for another procedure, like PRK or SMILE. Make sure to discuss all your options with your eye doctor.
Why Should I Consider Getting the EVO ICL?
Even if you loved the idea of getting LASIK, you might still be on the fence about the EVO ICL, and that's okay. Here are some reasons why the EVO ICL is worth considering!
You Don't Have to Worry About a Long Recovery Period
One of the most significant advantages of getting the EVO ICL is that many patients start noticing improvements to their vision almost immediately! The procedure only takes about 20-30 minutes to complete, and most people find that they can go back to work the next day.
Take the day to relax, and then after that, you'll be able to enjoy your new vision to the fullest!
You Can Finally Experience Visual Freedom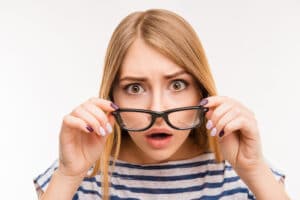 If you're tired of relying on glasses or contact lenses to see, the EVO ICL can finally provide you with the visual freedom you've been craving. Clear vision without any boundaries holding you back could be yours.
You Can Protect Your Eyes While Seeing Clearly
As if seeing clearly without lenses or frames wasn't enough, the EVO ICL also contains an ultralight filter. That means that while you're enjoying clearer, sharper, and more vibrant vision, you're also protecting your eyes from the sun's damaging rays at the same time.
Get Ready to Experience the Best Vision of Your Life
When you choose the EVO ICL, you'll get to experience seeing as it was meant to be. You can look forward to a more vivid world, sharper details, and more clarity, no matter what you're seeing.
Whether you're enjoying an art gallery or getting ready in the morning, experiencing improved vision is nothing short of life-changing.
Is the EVO ICL Safe?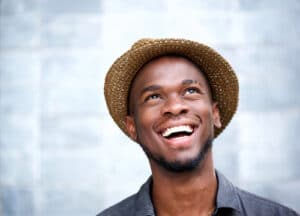 Yes, choosing to have the EVO ICL implanted in your eye is safe, and here's why. First of all, you have to qualify as a candidate to have the procedure. If you aren't a good fit, your eye doctor will recommend something else.
What makes the EVO ICL safe is the use of collamer. Collamer is a biocompatible material specially designed to work with the chemistry of your eye.
Collamer is made from both polymer and collagen. Combining both of these materials means that your body won't react to them or try to reject them after the ICL implant is in your eye.
More importantly, it also reduces the chance of experiencing dry eyes during the recovery process. For people that already suffer from dry eye syndrome, this makes the EVO ICL especially attractive.
Another benefit of the EVO ICL is you won't be able to feel it and may even forget it's there! If for some reason, you decide you want to take your ICL out, you can always have it removed later on as your vision needs change.
Are you wondering if the EVO ICL may be right for you? The only way to know is to schedule an appointment at IQ Laser Vision at one of our locations throughout California and Houston, TX, today!