The technological world's capabilities advance every day and endlessly continue to benefit us. Advanced technology allows us to serve our eye care patients with the best products possible, yet it is important to note where to draw a line.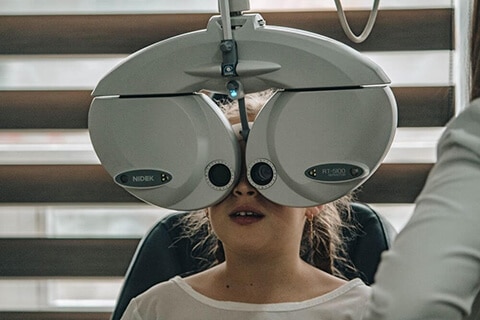 Nowadays, our phones can do almost anything, including vision tests, but one should not forget that there is something even the most advanced technology cannot perform– regular eye exams.
Vision tests are not required to be done by an eye care professional, but eye exams are.
Eye exams are only performed by licensed eye doctors (an optometrist or ophthalmologist) and do more than just evaluate how well you see.
During an eye exam, your eye doctor will carefully check for early signs of serious eye problems such as cataracts, glaucoma, detached retina, or macular degeneration. Both the front and the back of the eye are examined to ensure your eye health is holistically evaluated.
Your eyes are not just a window to your soul; they are a window to your health. Through examination of the appearance of blood vessels and other structures of the eye, an examination allows your doctor to search for early signs of serious health complications.
Health concerns such as diabetes, metastatic cancer, inflammatory conditions, or high blood pressure can all be detected during an eye exam.
Eye care professionals recommend coming in for an eye exam every two years, depending on your age and pre-existing eye problems.
The Centers for Disease and Prevention states, "as many as 45% of US adults haven't had a dilated eye exam in the last 2 years," but regular eye exams can serve as the first line of defense against permanent vision loss. Eye diseases often develop without symptoms at first, but an eye exam can spot problems early when they're most treatable."
As technology advances, one should keep in mind the importance of in-person interactions, specifically those regarding your health.
When you visit your eye doctor and have that person to person communication, the benefits are endless. Your eye doctor has years of experience and knowledge and can provide you with instant access to a source of reliable information. In comparison to simply using the internet, where misguided and false information is often found, an eye doctor is much faster and more reliable.
Without a doubt, there are endless benefits to talking with someone that a computer's benefits can't match. For that reason, it is essential that you maintain a relationship with your eye care professional and receive regular eye exams as needed.