Hey Millennials! Yep, you know who you are (and if you don't know where you fit on the Millennial spectrum, yours is the generation born between 1981 and 1996.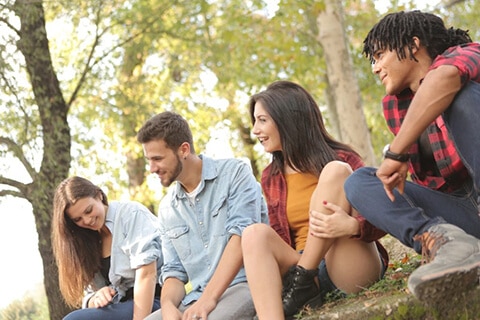 It's no joke that today's Millennials are busy. Between college classes, part-time or full-time jobs, starting out a career or moving up in your professional careers, becoming Instagram influencers, getting married, having babies, traveling the world for adventure, and living your best lives, it's easy for self-care to take a back seat. But did you know Millennials are jumping on one of the biggest trends (that happens to be timeless) to take charge of their vision so they can ditch the glasses and contacts for good?
LASIK is trending (but it's more than a trend!)
LASIK eye surgery has been around since the 1970s (though it was approved for use by the FDA in 1995). That means over the last few decades, vision specialists have been able to perfect it to ensure it's safe and effective for improving eyesight.
During that time, our very own Dr. Robert T. Lin helped pioneer (and patent) the Micro-LASIK®(r) technique, which uses a specially-designed laser to create a very thin corneal flap in order to preserve more corneal tissue strength and allow patients with higher prescriptions and thin corneas to get LASIK.
This life-changing technology is here to stay. Why? Because it provides a safe and effective long-term solution to the problem that so many Millennials and Baby Boomers are faced with: waning vision.
And IQ Laser Vision has been on the cusp of the latest and greatest innovations in vision care, including the advanced SMILE procedure.
Why Millennials are turning to LASIK and SMILE
If you're like many Millennials today, you've probably noticed your eyesight isn't as great as it used to be. That's normal–to a degree. Once you hit your 40s, it's pretty typical for vision to begin to deteriorate by a very small percentage every year. But "normal" doesn't mean you have to just sit back and accept it.
Eye diseases and problems can strike at any age, though they become far more common as we age. Just a few years ago in 2015, American's over 40 with vision problems hung somewhere around the 12 million mark. And by 2050, a study by the National Institute of Health predicts, 50% of the global population will be nearsighted.
Furthermore, Millennials increasingly spend more of their time in front of a screen, whether for work or entertainment. While we don't fully understand the long-term effects of computer and digital device usage on our eyes, we do know this. The degree to which you experience the discomfort of eye strain and computer vision syndrome while using the computer can be related to uncorrected underlying problems with your eyes, such as astigmatism, myopia, presbyopia, etc.
Millennials have traditionally bandaged the discomfort and vision issues with glasses or contacts rather than addressing the underlying issues. As their eyes age, they get new prescriptions and their eyes continue to suffer and vision decline.
While you should always use a digital screen responsibly by giving your eyes time to look away and take a break, many Millennials are starting to opt for vision correction to finally fix their vision problems for the long-term with a LASIK or SMILE procedure.
Why LASIK and SMILE appeals to Millennials
LASIK and SMILE actually save you money
Millennials love a good bargain. And we believe that the best deal you can have is to invest in yourself, your wellness, and your vision. You (and we) want your vision to last well into your 80s, 90s or even hundreds! Now imagine spending money on new glasses or contacts every year over the next 60 or so years (and feeling less than confidant while you do). That's not even counting the extra glasses you have to buy as emergency pairs, or replacements to your lost or broken (again) glasses. So what's a money-savvy Millennial to do? Invest your hard-earned money in an honest-to-goodness long-term solution to free up your finances so you can spend on things you actually care about (rather than glasses and contacts). We have financing options available, and your employer may offer vision correction benefits too!
LASIK and SMILE give you an instant confidence boost
For those of us who've struggled with glasses our entire lives, we understand the social stigma that comes with stepping out in frames–no matter how cool or what brand they might be. If you love your glasses because they give you the signature look you're going for, that's great. But if you are tired of people assuming things about you because you wear glasses, or if you're just ready to show the world the authentic you behind the lens, LASIK and SMILE can help you achieve that. You'll put your best foot in that meeting or presentation tomorrow, or on game day, because you will feel and look amazing and that translates into being stellar. (Oh, did we mention recovery time is really THAT fast? Yep, in today, out today and wearing makeup and seeing fine tomorrow)
LASIK and SMILE allow you to live your best life
Whether you're an athlete, a world traveler, a busy mom who has to go from 0 to 60 without a moment's notice, or a professional who wants to look the part they feel, LASIK and SMILE vision correction is a life-changer. Glasses and contacts have never been more than a bandage solution, and today we know that contacts can actually be dangerous for your eyes (not to mention really bad for the environment!). And glasses–well, if you've ever lost them, sat on them, squinted and stumbled through a presentation because you left the house without them or just felt a little less than confidant with some frames separating you from the rest of the world, you know what we're talking about
All that, AND they're a safe and effective long-term solution! What's not to love about that?
Call our friendly team to schedule a free consultation today. They're the best. Really. Our surgeons' experience, our stellar customer care, and the vast number of lives we've changed over the last few decades attest to it. There's a reason we're the number one SMILE center in the US. So if you're curious about seeing what LASIK or SMILE can do for you, ready to schedule a consultation, or if you want to just get some questions answered, shoot us an email at appointment@iqlaservision.com or give us a call at 888-539-2211.
Make this your year. Make 2020 the year you see 20/20.