With the new year fast approaching, there's never been a better time to think about what you want. Give yourself something that you'll never regret. It's the gift of clear vision and investing in yourself. Keep reading to find out 6 reasons why LASIK is the best holiday gift to give yourself!
1. Save Your Money for What Matters, Like Holiday Presents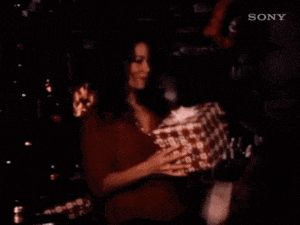 'Tis the season for giving holiday presents to the ones you love! If this season has you feeling a little tapped, getting LASIK can save you money over time.
Think about what you currently spend on glasses, contact lenses, and all their necessary accessories. It adds up!
Those monthly expenses can be brutal around the holidays when it seems like everyone you know needs something special. By choosing to have LASIK, you can pay one up-front fee and then pay off the procedure over time.
What's more, most LASIK patients find that the vision correction procedure starts paying for itself after only two years. Once you reach this point, that's money that you're putting back in your pocket.
You can use it to purchase holiday gifts for everyone on your list instead of feeling like your budget is taking a hit every time December rolls around.
2. Enjoy all the Holiday Sights to the Fullest
Is there anything more magical than looking at all the holiday lights around Los Angeles? Sure, there may not be any snow, but it's still magic!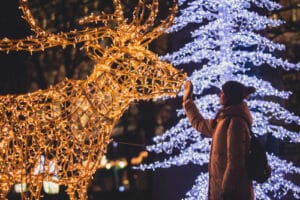 The only thing that can make this time of year even better is knowing you're experiencing the holiday sights with your best possible vision. Imagine having sharper, clearer, and more vibrant eyesight in a few hours.
When you have LASIK, this is entirely possible! If you already wear glasses and contact lenses, you can see, but can you see well? Are you picking up the tiniest details when you spend an evening gazing at the stunning holiday lights at LA Zoo Lights?
Probably not. Seeing in 20/20 or better is one of the most distinct advantages of getting LASIK. There's truly nothing like seeing holiday lights when you can appreciate every color, nuanced so beautifully against the evening sky. Your glasses and contact lenses simply can't compare to the sight.
3. Relax, Rejuvenate, and Recover
Everyone needs a little time to relax and reset their batteries right now. If you're worried that you'll spend your time off convalescing at home after having LASIK, you won't.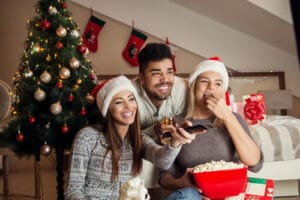 Most LASIK patients are back at work the next day. There's no reason to go back early if you don't want to. Instead, use your LASIK recovery as a time to relax and enjoy your time at home.
You can take a few days to yourself, which is essential when the holidays can be incredibly draining. Spend time with family, read a book, or watch your favorite holiday movies.
What you'll notice is that in the days after you have LASIK, your vision will only continue improving. You may find yourself noticing new things you've never seen before. There's nothing more life-changing than giving yourself the gift of clearer vision this holiday season.
4. Take Part in Your Favorite Winter Activities Without Boundaries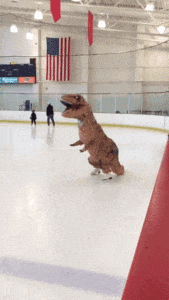 It may be winter in California, but that doesn't mean there aren't any winter activities to enjoy. One of the best things to do is go ice skating indoors.
If you wore contact lenses, you might find that it becomes so much easier after LASIK. You no longer have to worry about if your eyes will get too dry, making it difficult to see while you're skating.
Let yourself enjoy the moment instead of getting caught up thinking you need to take a break. Ice skating is never complete without a mug of hot cocoa, and if you had glasses, this could be a real nuisance. Who wants to deal with foggy glasses?
You won't have to stop and clean off your glasses anymore because you've finally achieved visual freedom. It doesn't get much better than that.
5. LASIK is the Gift that Keeps on Giving
Did you know that LASIK is a permanent procedure? It may sound a little crazy, but it is!
The procedure works because it involves reshaping the cornea. Reshaping the cornea corrects refractive errors like nearsightedness, farsightedness, and astigmatism.
It is essential to realize that LASIK only treats current vision problems. Although it is permanent, you'll still develop eye conditions like cataracts or presbyopia after LASIK.
That's because LASIK only deals with reshaping the cornea. Other eye conditions like cataracts and presbyopia concern the natural lens of the eye. When you have a cataract, it develops because the lens grows cloudy. With presbyopia, it's because the lens loses flexibility due to aging.
But the most significant advantage and benefit of LASIK, by far, is the fact that you can enjoy decades of clear vision. That not only saves you money, but it also saves you time.
You'll no longer have to spend precious minutes every morning trying to put in your contact lenses! Instead, you can use that time to sleep in, cuddle with your cat, or make breakfast.
The options are practically endless! There's no better gift to give yourself when you can enjoy incredible vision and have more time to yourself.
6. Give Yourself a Great Start in the New Year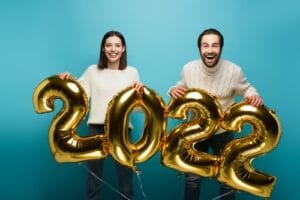 If you can give yourself a headstart in the new year, why wouldn't you? Choosing to have LASIK is an excellent way to start the new year strong.
There's nothing like experiencing visual freedom for yourself, especially when it has the power to change your life. It may sound small, but improving your vision could be the first way your life changes for the better.
Many people that have LASIK find that it works as a jumping-off point. Maybe you decide to go on a vacation you've been thinking about for a long time, or you put yourself out there for a big promotion at work.
LASIK has the potential to change your life in a million tiny ways you never saw coming. Why not enjoy the world with the kind of vision you've only dreamed of until now?
Are you interested in learning more about LASIK and Zeiss SMILE Eye Surgery? We proudly serve Los Angeles, San Francisco, Houston, and the surrounding California area.