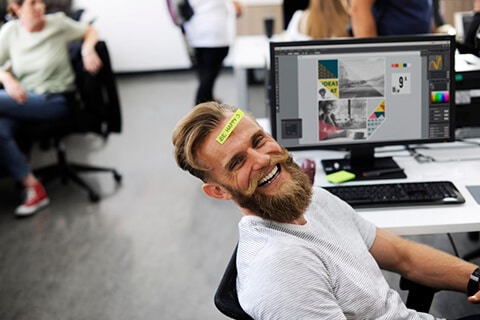 More companies than ever are focusing on helping their employees feel their best, see their best, and be their best. And we're excited to see that so many of them recognize how important LASIK and other corrective eye procedures are to the process–particularly in a screen-glued culture of eye strain and premature ocular aging.
After all, today, 75% of Americans​ rely on some form of vision correction. One ​study found that 40% of people were hoping to improve their vision by the time they turn 30, and that's not all. Ninety percent of people over 55 need some form of vision correction.
If you've been "eyeing" LASIK or other laser vision refractive eye surgeries to perfect your eyes but weren't sure who to talk to about taking the next step, have no fear–we've got your back.
A majority of people who want to escape their glasses and contacts, save money and achieve the best vision of their life only have one concern — will insurance pay for LASIK?
The insurance and benefits landscape
Insurance companies have traditionally viewed LASIK as cosmetic–and unless medically necessary, would not cover it. Today, many insurance companies have started offering discounts ranging from 5-15% off because insurance companies, and private and public companies realize that good vision is vital to employee happiness, productivity and ongoing health.
Health Benefits are most important to a growing workforce. The workplace is transforming, and more employees than ever choose companies based on the benefits and culture — health, dental, vision, and bring-your-dog-to-work day.
This health-conscious trend affords employees a prime opportunity to petition their employer to invest in their eye health and improved productivity.
Many companies see a comprehensive benefits package as a way to sweeten the deal to keep employees for longer. And that's why more companies are starting to offer LASIK benefits to their team.
Some companies that offer LASIK benefits
More and more companies are getting on board with improving the benefits they offer their employees. Companies like SpaceX offer free money towards LASIK after being with the company for 2+ years (after the deductible is met). LinkedIn and Blizzard also offer LASIK benefits to its team members. These are just a few examples of a whole swath of companies leading the health conscious revolution in workplace culture.
Does your company offer LASIK benefits?
Wondering if your company will cover your LASIK procedure? Come in for a free evaluation and consultation, and we'll check out the details directly with them. We'll also find out what other benefits they might offer toward your vision improvement.
And even if they don't offer it yet, there are plenty of ways to make LASIK affordable and accessible. FSA/HSA accounts. Easy financing options.
Creativity is one of our strong suits, so feel free to ask us. We also have promos going on throughout the year, and might even have a special going on during your visit (so make sure to ask!).
Ready to book your absolutely free, no-strings-attached consultation with our world-renowned team of refractive surgeons? Give us a call at 888.539.2211 or send us an email at appointment@iqlaservision.com and we'll talk you through the next steps toward your best vision.