Here at IQLaser Vision, we strive for the absolute best for our patients, carefully assisting you through the entire life-changing process, LASIK.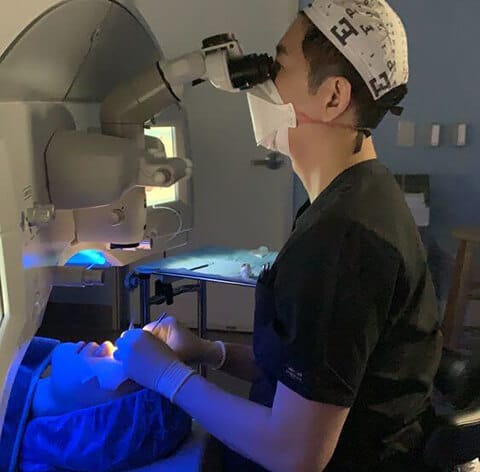 For the last 19 years I have successfully performed more than 60,000 refractive procedures on our patients, giving them clear and precise vision instantly. When I graduated from medical training and completed my residency in ophthalmology at the Jules Stein Eye Institute at UCLA, I knew I wanted to create something meaningful. Without a doubt, restoring vision is my way of leaving a mark.
Now, I take pride in teaching as an assistant clinical professor in the university that taught me so well, so that our future eye doctors can continue to enhance the life of those who seek to view the world through a pair of crystal-clear eyes.
Our team at IQLaser Vision and I believe in the importance of personalized eye care. We understand what your concerns and needs are; they are our priority. For that reason, we work hard to perform successful procedures with the assistance of only the most advanced technology and the right counseling services to ensure that you are ready to change your life through LASIK.
Providing our patients with the best services and attention is our reward and we express that by using only the best and top-performing technology for our procedures. The Nidek Topography-Assisted CATz, used for LASIK at IQLaser Vision, allows me to treat serious eye concerns such as corneal irregularities. This advanced technology is also designed with software that assists in preciseness, such as a guided laser, leaving little to no room for error. This FDA approved technology was created by NIDEK, a global leader in laser and diagnostic instrumentation for the eye care industry.
When I founded IQLaser Vision in 1999, I did it with the mindset of providing only the best and most reputable services one patient at a time. There is no doubt that LASIK changed my life and I hope that you also trust our experience and recognitionduring theprocess of bringing clarity to your life again.