The end of the year is approaching fast! We're already nearly through December! In that vein, have you checked out the perks your company offers toward vision care (specifically, if they offer discounts toward laser vision correction procedures like LASIK or SMILE)? If they do (and more and more companies are now offering these perks) you'll want to use the benefits as soon as possible.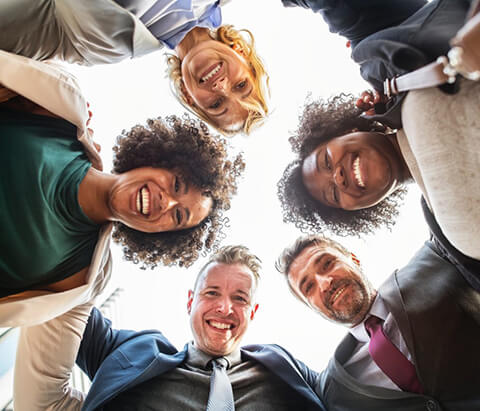 After all, with75% of Americansusing some form of vision correction to make it through their days, and with smartphone and computer use becoming a day-to-day fixture in business and life, eyesight is starting to fade faster than ever. Yep, your electrical devices could be causing a more rapid decline in vision than in years past. In fact, by the age of 30, around40% of peoplestart experiencing problems with their vision. And it's generally pretty downhill after that, with a 90% vision decline by the age of 55!
But better vision could be just a few minutes away. In fact, if you act fast you've got the opportunity to start the new year off strong–seeing 20/20 in 2020.
The solution that keeps on giving
So if you've been depending on your glasses to get you through the day, we've got news for you. Laser vision correction is the solution that is far morecost-efficientthan continuing to shell out your hard-earned money for new contacts and glasses every time your doctor gives you another prescription or you lose (or crunch) a pair of eyeglasses.
The good news is that more businesses than ever have become aware of just how much perks (and good eyesight!) matter to their employees–especially the perks that make a real difference for the present and future of their team members.
Vision correction perks are the kind that keep on giving because vision correction is a long-term solution. That's why companies are starting to provide the benefits that their people actually care about–like LASIK and SMILE benefits.
Check out our laser vision correction cost calculator here.
Laser vision benefits your company may offer
Today, more companies than ever in California (and across the nation) are offering perks related to laser eye surgery. These perks can help offset the cost of a LASIK or SMILE procedure. So be sure to check with your company's HR or Benefits department to see the array of vision benefits that may be available to you. From comprehensive wellness plans that include LASIK benefits to discounts, FSA and HSA account options, you've got more options than ever to make your dream of better vision a reality.
If you work for a company that provides LASIK benefits, that's awesome. If you don't, your company might still offer some sort of benefit that can help you out with your procedure so double-check with your benefits coordinator. But whether your company provides LASIK benefits or not, good news is still on your side because there are plenty of other ways to ensure that laser eye surgery is affordable for you.
Keep reading to learn the ways we aim to keep vision correction affordable for you.
Other ways to pay for or finance your laser eye procedure
Your vision insurance may provide discounts
Today, many insurance companies are starting to provide savings in the form of discounts on procedures (often with an in-network provider) or discounts on non-prescription sunglasses following your eye surgery.
Wondering if we accept your insurance provider? Wonder no more. Click here to get in touch or call us at 888-539-2211.
Use your FSA/HSA funds for LASIK
If your employer has given you a Flex Spending Account (FSA) or a Health Savings Account (HSA), you are in luck! You can apply your pre-tax FSA/HSA dollars to pay for your LASIK or SMILE eye procedures. These accounts are not only an interest-free savings program for your medical and vision needs but can significantly reduce the cost of eye surgery, making it an easy choice for you! With the end of the year around the corner though, you'll want to make sure to use your FSA funds before they expire (remember, only up to $500 of yourFSA fundswill roll over into next year; as for the rest, use it or lose it).
Other financing options
At IQ Laser Vision , our goal is to make the best vision affordable for everyone. That's why we work with businesses and insurance companies to provide as many payment optionsand discounts as possible. Our Corporate Program provides employee discounts to member organizations, so check with your company to see if they're part of the IQ Laser Vision Corporate Program (or get your boss to connect with us to set your company up!) We've also got an awesome financing plan in place thanks to CareCredit. That means you will be able to schedule your vision correction procedure now, and pay for it easily over time with monthly payments as low as $4 per day!
Our staff is oh so friendly and eager to walk you through the ins and outs of financing or paying for your laser eye surgery. Whether you want to schedule a free consultation to see whether LASIK, SMILE or another eye surgery is right for you, or you want to discuss payment options, we are just a call or click away. Give us a buzz today at 888-539-2211or drop us a quick line at appointment@iqlaservision.com.