(Originally published on June 7, 2019)
You may have heard about the latest SMILE eye surgery that offers an alternative to LASIK eye surgery. What separates these two procedures, though?
Why would you want to choose SMILE instead of LASIK?
Which procedure is safest, or gives the best results?
These are excellent questions, so let's find out!
Are you in California or Houston? Interested in a Free Consultation?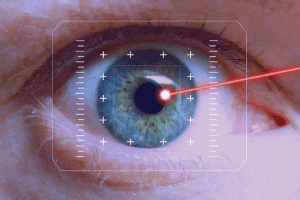 First of all, both LASIK and SMILE are acronyms. LASIK stands for Laser-Assisted In-Situ Keratomileusis, which is a bit of a mouthful. SMILE stands for Small Incision Lenticule Extraction. They're both very technical, which is why most people refer to them by their acronyms, but their differences are much wider than a simple difference in terminology.
LASIK obviously involves a laser – the L stands for laser, after all. The first step is creating a hinged flap in the eye's cornea (usually about 20mm in diameter) using a surgical device called a microkeratome or femtosecond laser. Once there's a clear access to the corneal tissue, a specialized excimer laser is used to reshape the cornea to a shape more ideal for refracting light into the back of the eye. Then the flap is placed back down, and it will naturally heal over the course of a week or so.
In SMILE, the opening only needs to be about 4mm wide, and the initial flap is made with a laser. After the outer layer is clear, a second flap is made with the laser in the corneal tissue, and a precise amount of it is sculpted away and removed from the eye. Once the surgery is complete, the surface of the cornea will heal naturally over the course of a few days and improvement in vision is noticeable within that same time frame.
These might seem like minor shifts in the procedure, but when you're working with something as intricate and delicate as the human eye, small differences can produce large differences in outcomes. In order to decide what's best in the SMILE vs LASIK arena, it's best to understand what each procedure is best at accomplishing.
SMILE vs LASIK: Advantages of SMILE Eye Surgery
Research has shown that, in cases of nearsightedness, SMILE and LASIK results are very similar. One survey of 328 people that received SMILE procedures reported every patient but one achieved uncorrected visual acuity (UCVA) of at least 20/40 from the surgery, and almost 90 percent of them were seeing with 20/20 vision after the surgery.
Other studies, such as this one, have shown that the risks of developing dry eye symptoms might be reduced in SMILE procedures when compared to LASIK procedures. It's suspected that, because SMILE doesn't involve the creation of a large 20mm corneal flap, the corneal nerves are less aggravated and prone to producing negative symptoms. It is also possible that the small incision made in a SMILE procedure protects the eye's biomechanical stability, while the larger trauma inherent to LASIK might injure the eye's flexibility in changing shape.
In cases of severe nearsightedness, a single LASIK procedure might not prove sufficient, and a second enhancement pass might be required. In correcting these same cases of severe myopia, SMILE is thought to produce better outcomes. This might be because the cornea doesn't become as dehydrated during a SMILE procedure as it does during a LASIK procedure.
SMILE vs LASIK: Limitations of SMILE Eye Surgery
These advantages are certainly enticing, but SMILE doesn't completely replace LASIK. There are some things that LASIK does better than SMILE procedures.
The first, and most important, the difference is that SMILE is suitable only for correcting cases of nearsightedness. If a patient is looking to correct farsightedness or hyperopia then LASIK remains the better choice. Removal of a lenticule might cause less surface damage to the eye, but it's more difficult to accomplish the sort of reshaping needed for correcting farsightedness or astigmatism through the SMILE procedure. This doesn't mean it's impossible; correcting mild farsightedness via SMILE is currently occurring in Europe, and as the technology advances it's very possible that the US market might see similar applications here in the future.
LASIK and PRK procedures are also capable of treating higher-order aberrations (HOAs) in the eye. SMILE isn't good at fixing night vision issues, for instance. Even the presence of an HOA can make SMILE a less attractive choice. On an otherwise healthy eye, SMILE involves less surface damage, but the procedure could actually cause the exacerbation of already-existing aberrations. As with many procedures like this, SMILE carries the risk of causing refractive errors, and in such a case a PRK procedure would be the right answer to clear up any such error.
There are also risks attached to SMILE simply because it's still fairly new to the field. An eye surgeon who isn't as familiar with SMILE will likely need to perform the procedure multiple times before they get can produce optimal results and keep risks to an absolute minimum. It's worth inquiring about the experience level that any eye surgeon has with a given procedure before signing up to be one of their patients, and this is a bigger concern with SMILE than it is for LASIK, given that LASIK has been around longer.
SMILE Eye Surgery Cost vs. LASIK
The majority of refractive eye surgeons in the United States charge similar rates for both LASIK and SMILE eye surgery — between $2000 and $3500 per eye is the common range of costs. Certain things might cause this price to end up on the higher end, such as the surgeon's experience in the field and with the procedure, the location of the clinic or hospital, and the sort of follow-ups that are required for the procedure.
If you are nearsighted and have astigmatism, and this article leads you to wonder if you'd be a good candidate for SMILE or LASIK eye surgery, then your next step is easy and comes with no strings attached. Simply reach out to an IQ Laser Vision center near you for a FREE consultation. Find a location near you today!
Smile Eye Surgery Reviews From Real Patients

My name is Amy Nguyen. I originally from Garden Grove but I live in Oklahoma for 7 years now. My mom told me about thw lasik couple years ago. However i were scared and thought it was supper expensive so I didnt do it until Monday02/20. Im so glad and regreted a lil why would I do it soonerIlove how Christine explained so specific about everything before I asked questions. love how she explain supper details about differents between Lasik and Smile. how the Smile applies for my eyes. love the warranty of life time for my eyes…

With the terrible vision I had (about -10 prescription on both eyes. Yes, it was really bad), one of my biggest fears was being stranded somewhere if I happen to lose my glasses/contacts. Never again will I have the fear. I got the SMILE procedure done!

The procedure itself was painless. The most critical part is staring at the green light for 15 seconds as it circles around your pupils…

If you're thinking about vision correction surgery, this is definitely the place to do it. The process from consultation to surgery to post op has been very smooth for me. I got the SMILE procedure done in May and am very pleased with the results!

I came last December for a free consultation and felt very welcomed as soon as I entered the office. Josie and Diane at the front desk were very kind and attentive when I walked in and even offered me water while I waited. During my consultation Dr. Nguyen and Christine were amazing! Christine was my counselor and she explained to me how payment worked and which procedure would be best for me. Dr. Nguyen was very informative in explaining the procedures and made me feel very comfortable!

I just got my eye procedure done recently and I wanted to thank IQ Laser for all of their help. Josie was the one that welcomed me in and helped me out with my questions. Thank you to her and also Dr. Lin of course. I got the Smile procedure done after consulting with the specialist and I am very happy with my new vision. My eyes are finally free and I am able to see without worrying about contacts or eyeglasses anymore. Would highly recommend. They have payment plans too…

Definitely the place to go to if you're ready to get rid of glasses and contacts for good! I went in for a free consultation back in November 2018 because my vision was bad and I was tired of wearing ortho-k lenses, so I was ready to make a change in my lifestyle! During my first visit, the staff was so friendly and helpful! That's when I knew I was set on letting IQ Laser Vision fix my vision. At first, I thought I was going to get the common LASIK eye surgery, however, they told me about a more advanced surgery called SMILE. With SMILE, your eyes will be less drying, which is something I liked to hear, so I was sold with getting SMILE. I had to wait till my vision was stable before I could get eye laser, which wasn't till February 2019. I went in basically every 2 weeks or so to get my eyes checked till my surgery. Surgery day came and I was nervous and excited, but…

I am very impressed with IQ laser – they really stand out. I visited the facilities in preparation for my family members to have their surgeries. Very clean and professional facilities and staff. Also they will now be offering the new procedure known as SMILE as well as offering the femtosecond option for refractive treatment – both of which from my understanding allow for an even more comfortable treatment and faster recovery time.. Dr Robert Lin has already patented the MICRO-LASIK procedure and its great to know that a whole array of advanced services are offered at this facility.

Additionally, some of my family members and relatives do not speak English well so it made them feel very comfortable that one of the doctors can even speak a few words of Russian, as well as Armenian, Arabic, Farsi amongst the array of other languages too…

A week ago I had Laser eye surgery with SMILE. It's the latest technology, not many places offer it but luckily IQ laser vision does! My Prescription was -7 in contacts also have a thin cornea therefore I was not a candidate for traditional Lasik. I went to 2 other laser vision offices which could only offer me PRK, it wasn't an option for me due to the downtime. I came across IQ laser vision and went in for a free consultation. After being informed on the SMILE laser I immediately booked my surgery. Staff was great, day of surgery process was smooth. Prep took about 90 minutes but really didn't seem that long. Met with Dr. Lin, he was super informative and extremely confident on outcome. I was in the surgery room for no more than 15 minutes and actual process was just a minute or so on each eye.

I waited three weeks after my lasik to write this review because I want to give a comprehensive write up.

The procedure is literally the BEST thing I have done for myself. It has completely changed my life. Of course I was nervous like everyone else but I must say, don't be nervous. It was an extremely simple and quick procedure. Overall, it was very comfortable experience.

Consultation: I had my consultation appointment and it was very straight forward. The staff members were all very friendly and they walked me through the cost process. You do save money if you can pay all at once (cash) versus having a payment plan. So I ended up paying by cash.