Whether you have perfect eyesight or require vision aid through contact lenses or prescription glasses, you may be experiencing dry eyes. Underestimating long-term problems associated with dryness of the eye can cause your eye health to deteriorate or be harmed. Dry eyes are a problem that many of us choose to set aside and consider minor, but dry eyes should be treated seriously–especially for individuals who wear contacts or use electronic devices on the daily. Taking care of dry eyes should not be a hassle, and it isn't. Finding the right solution for your dry eyes is just a matter of understanding what option works best for you.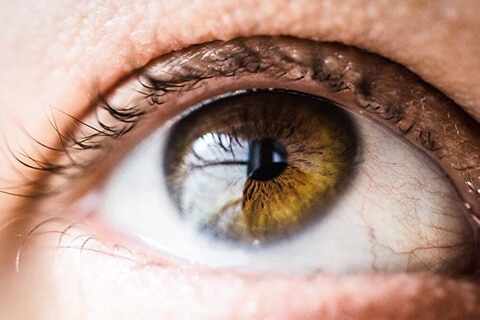 What are dry eyes?
Dry eyes are caused by the lack or poor quality of essential moisturizing tears that our eyes need in order to see clearly and protect against infection. When an individual is unable to provide enough tears or lacks good quality tears, they have a harder time focusing and experience bad vision. In the same way, individuals with dry eyes may experience irritation, burning, and excess watering. Tears are necessary for providing health on the front surface of the eye and for maintaining clear eyesight.
If you are experiencing any of these symptoms here's what you should know:
How do tears provide eye health?
With each blink of the eyelids, tears composed of water, fatty oils, and mucus spread across the front surface of the eye, also known as the cornea. These essential tears provide lubrication, reduce infection, and clean the eye from anything that may have entered such as excess makeup or dirt. Tears are essential for our eyes to remain healthy, lubricated and out of pain. Without proper care for dry eyes, the cornea is damaged and vision may be impaired.
If you do not wear contacts or use technological devices often, you should understand that dry eyes may still affect you.
What causes dry eyes?
Age: Majority of individuals of age over 65 experience symptoms of dry eyes, this is because dry eyes are a natural aging process.
Gender: Hormone changes caused by pregnancy, use of oral contraceptives and menopause are likely to cause dry eyes in women. Women develop dry eye symptoms more often than men.
Contacts: Individuals who wear contacts over a long period of time are more likely to have symptoms of dry eyes. Extended-wear lenses are a major result for dry eyes because they require little or no cleaning and without proper care can lead to infections.
The Environment: Smoke, wind, and dry climates may cause tear evaporation, increasing the probability of experiencing dry eye symptoms.
Other Causes: Failure to blink, antidepressants, decongestants and blood pressure medications, smoking, and consumption of alcohol are factors that may result in dry eyes.
How can you alleviate dry eyes?
Relief from dry eyes is found in many ways–some may require a few seconds out of your day and more serious problems can be solved through a simple visit to your eye-care professional.
Self-Care: These simple steps can reduce symptoms of dry eyes.
Blink regularly
Wear sunglasses
Drink nutritional supplements such as Omega-3 Fatty Acids – fish oil, flaxseed andRed Ginseng (Rh4 and Rf2)
Drink more than 5 glasses of water
Increase humidity in the air
Remove all eye makeup
Rest your eyes from continuous computer use
Reduce smoking and consumption of alcohol
20/20/20 Rule: Take a 20-second break and focus your eyes on something at least 20 feet away every 20 minutes.
If you need additional dry-eyes treatment, you can consult with a vision professional regarding the following options to figure out which works best for you.
At IQ Laser Vision , additional dry-eyes treatments are available:
Oasis Tears PF – preservative free lubricant that relieves symptoms caused by dryness
Celluvisc / Liquid Gel – higher viscosity than regular tears thus lubricating the eyes longer, however, can cause blurry vision immediately after use. Recommended for use before bedtime
Night Time Ointment – provides dry eye relief throughout the night. Recommended for use before bedtime
Warm Compress – softens the hardened meibum (oil) in the lid region
Lid Hygiene + Massage (After 10+ minutes of Warm Compression)

Oasis LID & LASH Gel Cleanser
Avenova (w/ Neutrox) – Daily Lid & Lash Hygiene

Tegaderm / Nexcare – transparent breathable dressing that aids in skin protection in postoperative eye patients and helps combat nocturnal lagophthalmos by aiding to keep eyes closed completely throughout the night to prevent night time drying
Punctal Plugs – help tears remain on surface of the eye longer by blocking the punctum

Collagen– temporary plugs that dissolve in about a month
Hydrogel – form-fit plugs that "permanently" block the punctum

MiboFlo Expression (MBFX) – massages clogged glands which helps to produce more oil which is critical in keeping tear film from evaporating too quickly
MiboFlo – provides emissive consistent heat of 108°F
MiboFlo Expression w/ Hydrogel Plugs (PMBFX) – combines the MiboFlo Expression treatment with Hydrogel plugs to the upper punctum
Blephex – clinical treatment of Blepharitis using a medical grade micro-sponge that removes scurf and debris from your lashes while exfoliating your eyelids
LipiFlow – automated treatment that applies controlled heat to the lids while applying pulsed pressure to the eyelids. Shows improvement within 2 weeks
Medicated Steroids

Lotemax
Prednisolone Acetate

Restasis – reduces inflammation associated with DES and helps the body produce more natural tears
Azasite – is an eye ointment containing azithromycin–a macrolide antibiotic that fights bacteria.
Lacrisert – sterile slow-release lubricant that's placed under lower eye in the inferior cul-de-sac providing all day moistening effect
Tetracyclines – oral anti-inflammatory agents that can inhibit matrix metalloproteinase expression,used to treat ocular rosacea