Halloween is arguably the creepiest time of the year. For the sake of fun, games and ghouls, many of you are already putting the finishing touches on your costumes and ordering last minute accessories, like boas and colored contacts. But before you get too carried away turning creepy, know this: those colored contacts you might be so excited about could be damaging your eyesight.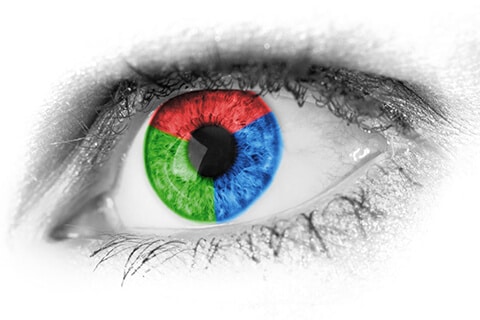 The eyes are the windows to the soul, and because Halloween is about souls, spirits and spooks, it might be tempting to transform your eyes to reflect your desired essence. However, experts are now warning that non-prescription colored contacts could be doing irreparable damage to your eyes—without you even knowing it.
The American Academy of Ophthalmology and their fellow ophthalmologists are calling out over-the-counter or over-the-internet purchased colored contacts. Why? From scratches, infections, Pink Eye, decreased vision and blindness, the risks might be greater than any happy Halloweener bargained for. Simple as it might seem, a contact lens is a medical device, and thus held to the most stringent standards. Over-the-counter purchases don't abide by the same standards and could harm and destroy your vision. Are those zebra-striped eyes really worth it?
But all is not lost. Colored contacts aside, you can still have a very happy (and freaky) Halloween with a few hot makeup tips to bring out the creeper in your peepers.
You won't miss colored contacts with these makeup tips
Faerie
The magic is in the mythical. Layer on the glittery purple and blue jewel tones. Add some glittery purple eyeshadow over your brows, and outline your eyes in blue shadow. Play up your eyes further by drawing some whimsical designs around your eyes with eyeliner. See the look here.
Circa 70's dancing queen
The glitz and glitter of the disco is about to descend on your next Halloween party. Use sparkly silver eyeshadow (very) liberally. Finish off with some hyper-glossy red lips, and your face will be its own statement piece. See the look here.
Clown
Are you tired of clowning around with loud, gaudy and unattractive makeup? Wondering if there's a way to be more cute than terrifying in your clown getup? This simple trick is fun and sure to please. Add a smattering of rainbow-colored dots around your eyes and eyebrows, and you'll have all the fun without the fear. See the look here.
A little batty
For a tigeresque Halloween look, add some orange shadow around your eyes, all the way to your brow bone. Slather black shadow on your eyelids, and line them heavily all around. Draw some simple bat figures into the orange shadow, and finish off with a sweep of dark shadow across your perfectly groomed brows. See the look here.
Wood nymph
This lively look feels like a Shakespearean spring day. Use a monochrome forest green eyeshadow on your lid and also to line the bottom of your eye. Make them stand out further with bright green lashes, and a smattering of bright green around your eyes. This look will captivate anyone who sets their eyes on yours. See the look here.
If you're serious about saving your eyesight this Halloween, forego accessorizing with colored contacts. Caring for your vision is a daily choice, so this Halloween, choose wisely and put yourself on the course toward better vision for life.