Congratulations! You decided that LASIK treatment was right for you and your vision problems. Post-LASIK: The question for most people now, is what can you expect after your surgery is completed? There's no one-size fits all guide for what happens after LASIK procedures, as different people can respond to treatment in different ways.
The good news is that your eyes will begin to heal immediately after your LASIK surgery is completed. Most people find that any discomfort and halos will begin to disappear within the first couple of weeks. However, it's normal to experience some blurring in your vision and fluctuations in vision for several weeks following LASIK.
Typically, to help put your mind at rest and make sure that you are healing properly, your LASIK surgeon will arrange an appointment with you the day after your surgery. You should also arrange some additional follow up appointments for a period of six months or longer to help monitor your eye health and vision. However, if you notice any progressive problems with halos, dry eyes or other visual problems, it's important to schedule an appointment with your doctor as quickly as possible to follow up on the issues.
Managing Recovery Post LASIK: Immediately After the Surgery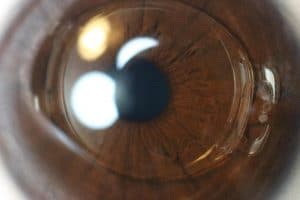 Immediately after your LASIK surgery is completed, it's important to have a friend pick you up and drive you home. You should not attempt to drive by yourself. Keep your eyes closed so you can rest them and wear your sunglasses to prevent any additional discomfort. Most doctors will recommend keeping your eyes closed for a period of two to four hours after treatment, so it might be worth taking a nap and letting your body begin to recover.
In the period after your surgery appointment, make sure that you avoid rubbing, touching, or squeezing your eyes. Remember that your eyes will still be very sensitive, and any rubbing could dislodge the flap that your surgeon created to re-shape your eyes. Wear your plastic shields when you're sleeping to avoid knocking your eyes, and wear sunglasses for a few days to protect yourself if you feel sensitive to light.
Ideally, you shouldn't attempt to return to work straight after LASIK surgery. You'll want to rest for at least the first 24 hours, which means avoiding computer work, reading, and any other activity that might strain your eyes.
How Long Does LASIK Recovery Take?
One of the most common questions customers have about life "Post Lasik", is how long they should expect recovery to take. The truth is that it's different for certain people. However, you shouldn't be disappointed if you find that your vision is hazy after the surgery, you see halos around light, or you're particularly sensitive to light.
Your eyes won't be perfect from day one, as they need time to heal – particularly if you had a prescription that required a lot of reshaping. However, discomfort should begin to dissipate within a few hours, and your surgeon will also provide you with some anti-inflammation and anti-bacterial drops that will keep your eyes from getting infected after the surgery. You may also need to use drops to help your eyes with tear production, as LASIK can reduce the moisture in your eyes temporarily.
Around 48 hours after your surgery, you'll have an eye exam with your doctor to address any concerns you have about your recovery. By this point, you should find that your functional vision is largely improved.
Post LASIK: The First Few Weeks
Within the first few days of LASIK surgery, you should be able to drive, go back to work, and enjoy most of your everyday activities as you would normally. You will also be able to bathe and shower, but you'll need to be careful not to get any water or soap in your eyes. If you play any sports or your work is physical in nature, then you'll need to wear safety glasses at all times to make sure that you don't harm your eyes or stop them from healing properly.
Even for low-impact sports, you'll need to avoid any interaction for at least three days. For vigorous sports, your doctor might recommend that you stay off the field for a couple of weeks. Additionally, swimmers can visit pools with chlorinated water seven days after their surgery, but they will not be able to go to natural bodies of water for at least thirty days.
People who wear eye makeup will also need to be cautious about the substances that they use around their eyes during this time. Specks of eye shadow, mascara and eyeliner can sometime enter the eye and increase the risk of infection or irritation. It's okay to use moisturizer, lotion, or foundation, but you'll need to be careful about using these substances in the areas around your eyes too.
If you do get anything in your eye within the initial weeks after your surgery, make sure that you don't rub your eye. Use your eye drops to clear your vision and call your doctor if necessary.
Post-LASIK: 6 Months After Surgery
Around six months after your surgery, you should be feeling as good as new. In this six-month period, you will have had numerous checkups and visits from your eye surgeon to make sure that your eyes are recovering and healing correctly. By this time, any problems that might linger in your vision like light sensitivity, glare, or halos in the eyes will have begun to dissipate entirely. In fact, you shouldn't need to use any drops unless your surgeon recommends it.
Some minor problems may remain with your vision after six months. If this is the case for you, then your surgeon might recommend conducting a follow-up procedure to make sure that your vision is as good as it can be. However, your expert will need to make sure that your vision is completely stabilized before he or she continues with any extra work. The eye needs to have healed completely before you progress with another procedure.