Have you thought about getting LASIK but haven't been able to follow through with it? There are many reasons to consider having LASIK, but almost everyone who has had it agrees that the procedure has changed their lives.
What you may not realize is that many of your favorite influencers and vloggers have had LASIK as well. Keep reading to learn how LASIK changed the lives of these 3 influencers and how it can change yours!
1. One on One with mister_jams from TheJAMESFamily: LASIK Made Everything Easier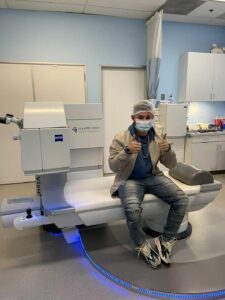 It's hard to imagine being an influencer who spends hours of their life in front of the camera and wearing glasses, but this was the reality for mister_jams. From needing glasses while recording video of eating hot and steamy foods to getting caught in the rain and being unable to see, visual aids weren't doing mister_jams any favors as an influencer.
Thanks to LASIK correcting his vision, he's found that life is much easier:
"Correcting my vision has made life easier, the fact that if we were recording videos outside when it rains or simply walking to the car, my glasses would get wet, and I would have to take them off and dry them to be able to see. Or, if we are recording a video and eating hot/steamy food, my glasses would fog up, and I would have to stop to clean my glasses and continue. Getting this procedure has definitely helped with these issues."
Even if you're not an influencer, you can relate to these everyday nuisances. Glasses in the rain can be beyond frustrating. Even if you wear contact lenses, you may end up experiencing irritation if your eyes get too dry or your contact moves out of place.
2. One on One with Graciemontes_: LASIK Changes Lives in No Time at All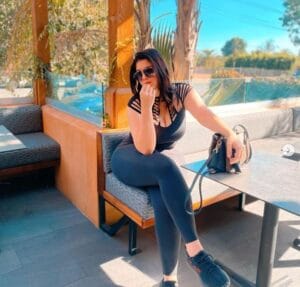 If you're considering LASIK, there's something immensely satisfying about knowing that many patients end up with 20/20 vision or better! It became the new reality for content creator Graciemontes_ who is now seeing 20/15 after having LASIK. She says:
"I'm seeing 20/15!!! It's the simplest procedure in the world. One of the things that got me really comfortable with getting the surgery done was the doctor told me that it's basically impossible to go blind. I 100% recommend this place. IQ Laser Vision literally changed my life. I'm as happy as I can be right now."
One of the things that makes LASIK such a remarkable procedure is its success rate. At IQ Laser Vision, we're proud to have an over 99% satisfaction rate with our LASIK patients.
How is this possible? We only allow patients that qualify for LASIK to undergo the procedure.
Before you can do anything, you'll schedule a LASIK consultation to determine if you're a good candidate for the procedure. We'll discuss the next steps and schedule your procedure if you are ready to change your life for the better!
3. One on One with Alannized: See Everything After LASIK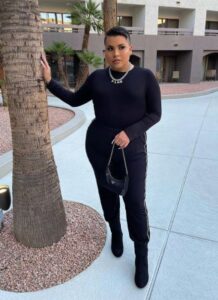 Whether you're a content creator like Alannized, or you enjoy spending time online, there's no doubt that LASIK can give you the kind of vision you've only dreamed of.
Think clearer, sharper, and better definition than you've ever had. You may not realize that using visual aids only corrects your eyesight so much.
With LASIK, you'll see details that you were never able to notice before. That's because LASIK improves your vision beyond what glasses and contact lenses ever could.
If you've ever wanted to see everything in high-definition, LASIK is the way to go. Alannized exclaimed the following about having LASIK at IQ Laser Vision:
"The whole team at IQ Laser Vision has been so amazing. Even though I was scared, I went into my procedure so confident that I would come out with perfect vision. I woke up this morning with better vision. I was kind of tripping out because this morning when I woke up, I had better vision than I had with my glasses or contacts. I can see you in 4k!"
You don't have to be an influencer, content creator, or Twitch streamer to enjoy the benefits of having LASIK. All you have to do is qualify for this life-changing vision correction procedure!
How Do I Know if I'm a Good LASIK Candidate?
Because LASIK is a surgical procedure that permanently reshapes the cornea, not everyone can undergo it. There are a lot of things that go into LASIK candidacy, but here are some of the main ones:
Age
You have to be at least 18 years old to get LASIK safely. If you're younger, there's a good chance that your eyes will continue changing as you finish puberty.
Prescription Stability
Another crucial component of being a LASIK candidate is having a stable prescription. Your prescription needs to remain unchanged for at least a year to get LASIK.
If your prescription is still changing, you need to wait before undergoing a vision correction procedure like LASIK.
In Good Health
You don't need to be in perfect health, but you need to be in good health to have LASIK. If you have autoimmune conditions like Sjogren's syndrome, rheumatoid arthritis, or lupus, these may affect your ability to heal after undergoing a procedure like LASIK.
No Current Eye Conditions
Besides being healthy, you also need to have healthy eyes. If you have eye conditions like cataracts or age-related macular degeneration, you can't get LASIK.
If you have dry eye syndrome, you must have the condition under control before having LASIK. If it's not under control, you'll have to wait, as LASIK can exacerbate existing dry eye symptoms during recovery.
Thick Enough Corneas
LASIK works because it reshapes your cornea permanently. Your eye doctor will measure how thick your corneas are during your LASIK consultation.
If your corneas are too thin, it can become unsafe to undergo LASIK. With thinner corneas, you may suffer severe complications or issues with your vision if you have LASIK.
Your Prescription is in the Treatment Range
Although LASIK is an excellent method of correcting vision, it's not suitable for everyone. If your prescription is too strong and is outside the treatment range, you may be a better fit for another procedure, like PRK or SMILE.
Are you interested in learning more about LASIK and Zeiss SMILE Eye Surgery? We proudly serve Los Angeles, San Francisco, Houston, and the surrounding California area.